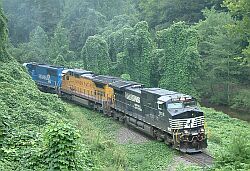 Welcome to the RRPictureArchives.NET contributor site of Randy Dyer.



Hi Fellow RR Picture Archive members,

My name is Randy Dyer and I have been a railfan for the last 35 years and I have been photographing trains for the last 15 to 20 years. I live in the Westminster, Massachusetts area these days, But I grew up in Southern California. My favorite railroad is Southern Pacific. I normally get to railfan one day a week (Sometimes two days if I am lucky). I mainly shoot at the following locations: Ayer, Shirley, Fitchburg, Westminster, Gardner, Spencer, and Palmer. I also make a yearly trip to Southern California and everytime I make my yearly trip. I go to Cajon Pass, Pomona, and Pico Rivera for some railfanning and I also do some rail shooting as well.

For the fellow railfans who live in Massachusetts and shoot in the same areas that I do. Please feel free to email me as I am always looking to meet new people who are into railfanning and shooting trains. Thanks and I hope you enjoy my shots.



You may browse my collection of pictures via the menu located on the left hand side of the page. I hope you enjoy the collection and thanks for stopping by!